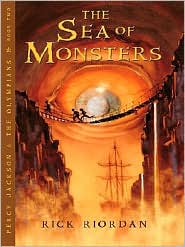 So I finished The Sea of Monsters by Rick Riordan today in between my two classes. Here's a short summary:
*(Contains minor spoilers to those who have not read The First Olympian)
It's time for Percy Jackson to return to Half-blood hill for the summer but a warning has come to stay away. While Percy was never one to follow rules well, he finds himself at the camp where many problems have risen, the posioning of Thalia's tree for one. Without the protection of the tree, the hill is under constant attack by outside monsters. Will Percy once again be able to come to the rescue?
--------------------
Well, while I won't tell you the answer to that question, I will tell you that your favorites characters are back and bring with them some great adventures. Grover getting engaged to a Cyclops and Chiron getting sacked are only a few obstacles that Percy and the entire crew have to overcome in this sequal to The First Olympian. It was nice to see the characters grow up some. Riordan pulled me along the entire time, and i'm eager to start the third book in the series, The Titan's Curse(of course I have to wait because it hasn't arrived in the mail yet :( ....). I have no doubt that the remaining books will keep getting better and better. I give it two thumbs up!