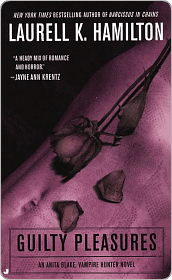 So i've been a little slow posting my reviews, give me a break i'm a busy person!! :) Not only will I review the first Anita Blake novel, which was published in 1993 (for those not to great at math that was a whopping 16 years ago)! Also, I read The Hunger Games. All I can say is squeeeeeeee...........
Guilty Pleasures: An Anita Blake Vampire Hunter Novel
By: Laurell K. Hamilton
Brief Summary:
Guilty Pleasures introduces the character of Anita Blake, Vampire Hunter and her world, an alternate history where magic, vampires, werewolves and other supernatural elements are known to exist. Blake, a zombie animator and licensed vampire executioner, is forced to investigate a series of vampire murders, and in the process comes into contact with many of the supernatural characters of her home city of Saint Louis. The novel blends elements of supernatural and hardboiled detective fiction.
---------
Well, I must say even though this book is not quite as old as me, it goes a while back, for the most part it still fits in with modern society. You know how some books written years ago have that sense that they are older? Well not this one. Hamilton does an amazing job of keeping the story current which probably doesn't hurt this series either, after being around that long it's bound to pick up new readers all the time. The 17th book in the series just came out in June, and while i'm only on book two I will definately be continuing with this series. It's jam packed with action, and it's hard not to feel for the protagonist, Anita, she has to go through a lot. Not only is her job as an animator, raising zombies, hard work, she also has to deal with psychopathic vampires, werepeople and just plain crazy people. If your someone looking for a good paranormal read, and you want to get into a series, I def. recommend picking up the this book.
________________________________
The Hunger Games
By: Suzanne Collins
Summary:
In the ruins of a place once known as North America lies the nation of Panem, a shining Capitol surrounded by twelve outlying districts. The Capitol is harsh and cruel and keeps the districts in line by forcing them all to send one boy and one girl between the ages of twelve and eighteen to participate in the annual Hunger Games, a fight to the death on live TV.
Sixteen-year-old Katniss Everdeen, who lives alone with her mother and younger sister, regards it as a death sentence when she steps forward to take her sister's place in the Games. But Katniss has been close to dead before--- and survival, for her, is second nature. Without really meaning to, she becomes a contender. But if she is to win, she will have to start making choices that weigh survival against humanity, and life against love.
-------
I don't know what I was thinking waiting to read this book. I have constantly heard great things about it, but when I originally read the inside cover I felt this book wasn't for me. How wrong I was?! I'm glad I voided my first instinct because this is one of my favorite reads right now. I couldn't put it down because I wanted to know how Katniss would be getting out of her next problem and I couldn't wait for Katniss and Peeta to get to know each other while also battling against each other to be the victor of the Games. Collins creates twists and turns that keep the reader on the edge of their seat. This novel has it all, action, adventure, love, betrayel, humor and horror. I already went out and purchased the sequal, Catching Fire, and will probably have that done in two sittings as well. Congrats Suzanne to an AMAZING start to what is sure to be an amazing series. After I finish the second all I have to do is wait for the third. This novel is a can't miss!!!
Happy reading! :)
Sherry <3